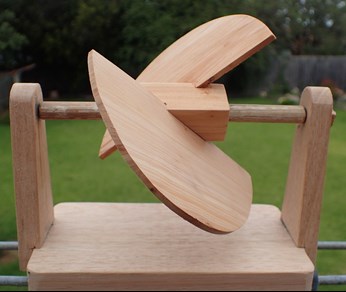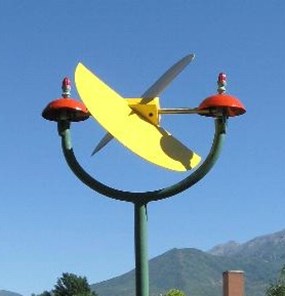 Pantanenome means 'all winds'. (Pronounce - Pan-ta-nen-o-mee) It is a special propellor that will turn without having to turn into the wind. This means that they can be fixed at any point and will whirl and swirl while the merry breezes of Eden blow. Watch this video
We wonder what Eden might look like in August, if we started making as many Pantanenome as we could during the period of our COVID19 hibernation. Imagine if slowly, over the next 4-6 months, Pantanenome started to pop up on letterboxes and fences, on shop awnings and park benches. Imagine them of various sizes and of colours bright. (You can see a small one on the yellow letterbox at 10 Bass Street, Eden.) Watch this video at 10 Bass street.
No single thing will bring us together and attract tourists to our town but with 'wild sea breeze our asset rich' this might be an edge which we could explore and exploit, with very little cost and with lots to gain.
If you would like to make a Pantanenome then follow the directions ……
..... Of course, a Pantanenome is just the most simple of whirligigs, once you begin then you can let your imaginations run wild to build many other more complex ones, just google 'Whirligigs' and discover for yourself. (A variety of whirligigs will only increase the potential for gain to our town - its people and our economy.)

Imagine an Eden where a quirky whirligig might give us an interesting edge ……….
Imagine a town where walking every street was fun,
   where at every house and park a tourist you might see
with camera poised and with a smile
    to capture a sweet memory.
Image this come cold or cloudy day
    then think of Pan-ta-nen-o-me.
Imagine a town where the wind blew fresh -
    Yes, Eden by the sea.
Imagine a town where rushing gales sweep and sing -
    Eden town it be.
Imagine a town where all-winds a-bound,
    then think of Pan-ta-nen-o-me.
Imagine the wild sea breeze our asset rich
    and how to make the wind our visitors to see…..
Flags and kites, and even whales, have many towns
    such things are not our key.
If we would be a town to turn a many head
    then it would be a Pan-ta-nen-o-me town for me.
Image them brightly coloured, big and small
    and turning with the breeze so free.
Imagine all year round, folks from far and wide,
    our town as their trajectory!
Then if imagination fed, let's get to making and to painting
    and to a-fixing many a Pantanenome.
P.S.
Sabine - "Where did you go on Holidays?"
Ivan - "Eden."
Sabine - "Eden?"
Ivan - "You know, the town of the Pan-ta-nen-o-me."